Plaisir Home » Online Flower Shop » Funeral / Sympathy Flowers
Funeral / Sympathy
Showing 1–12 of 21 results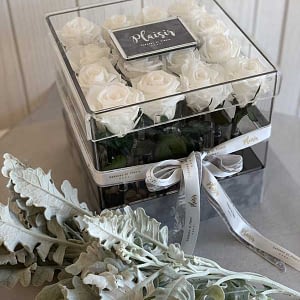 Acrylic Square All White Fresh Roses
AED

1,350.00
The Infinity White Acrylic Square: The Acrylic box is the ultimate in floral couture. Handmade with heat, the box is fully reusable. Plaisir's luxurious square Acrylic box is home to 16 beautiful white Infinity roses which last more than two years! The roses are nestled in unique stones and decorated with silk & velvet ribbons. Infinity roses do not require water or care, just keep them away from direct sunlight. This is a gift that not only will wow your receiver, but quietly displays your elegant taste. (box size 30 cm in diameter).
PLEASE NOTE: As flowers have various seasons, not all flowers may be available all year around. Should this be the case, we will always replace with flowers of equal or greater value in similar shades.
Same day orders are accepted if placed before 1:00 pm on the day of delivery.
Funeral / Sympathy Flowers
Sometimes it's not easy to express our sympathy in words, that's where sympathy flowers or funeral flowers will do the job.  The purpose of sending funeral flowers is to celebrate life. Funeral flowers should also provide some comfort and lift the mood somewhat. So avoid heavy colours and too many types of flowers mixed together. These types of arrangements are not suitable as funeral flowers as they may create visual chaos. 
What are the best and most appropriate flowers and colours to be used as funeral flowers? Always white flowers are most recommended to be used as sympathy and funeral flower; such as Lilies, Carnations, Roses, Hydrangeas and such are the most recommended flowers to be used as sympathy or funeral flowers. Funeral flowers and funeral flower arrangements must always be decorated with black ribbons.  
Some pointers you may like to know on sending sympathy and funeral flowers: A casket spray or wreath is generally reserved for the deceased's immediate family to provide as funeral flowers. Close friends and business associates opt to send funeral flowers in boxes or vases.  One must never sent a bouquet as funeral flowers. The deceased family doesn't have time or desire to look for vases on such occasions. Always make sure you send funeral flowers which are already arranged elegantly in beautiful boxes or in vases. Another comforting etiquette when sending funeral flowers to show your sympathy is including a heartfelt handwritten note alongside of your funeral flowers. 
Close friends and business associates can also send funeral flowers or sympathy flowers to the family's home or even to the office.  This is a completely acceptable practice if you don't wish to send funeral flowers to the funeral home. In fact, most people prefer this option to the family can enjoy the flowers in the comfort of their home instead of worrying about packing them up and transferring them to their home.
Our expert designers are always ready to discuss funeral flower etiquette with you, if you are not sure what to send. Leave it to us and we will make sure we design an elegant funeral flower arrangement to suit the solemn occasion.