Plaisir Home » Online Flower Shop » Luxury Flowers » Page 11
Luxury
Showing 121–132 of 145 results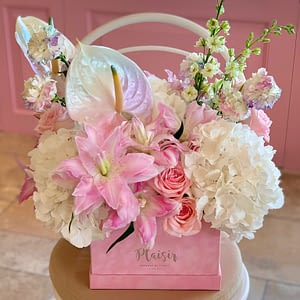 Unicorn love
AED

1,025.00
Some believe Pink is the happiest colour on earth. We are definitely one of those people! Pink conveys joy, happiness, playfulness, friendship and harmony all wrapped into one beautiful colour. Add a Unicorn colour bloom to the mix and you have the most whimsical arrangement! Make your receiver smile wide when receiving this joyful yet luxurious arrangement by Plaisir. (Empty box size is 20×20 cm)

PLEASE NOTE: As flowers have various seasons, not all flowers may be available all year around. Should this be the case, we will always replace with flowers of equal or greater value in similar shades.
Same day orders are accepted if placed before 1:00 pm on the day of delivery.
Copyright © 2020 Plaisir - All Rights Reserved.