Plaisir Home » Online Flower Shop » Page 29
Showing 337–348 of 411 results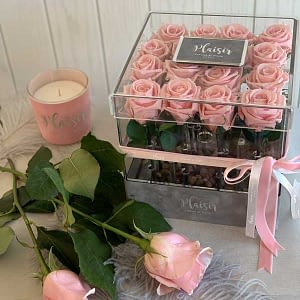 VIP Acrylic Square fresh Pink Roses
AED

1,350.00
Plaisir's Acrylic Square 20×20 cm box contains 16 exclusive fresh Pink Roses in high finish luxury Plaisir Acrylic box. These special luxury boxes are a work of art using no glue and are bent to shape by only heat. The luxurious Acrylics boxes at Plaisir may be used as a vase for future rose arrangements over and over again.
Plaisir Acrylic boxes are one of the most exclusive and luxurious gifts you could offer to a flower lover. Colour of roses may be specified ahead of time, if you wish to change Pink roses to any other colour. Give us a call (056-5687373) to ensure availability of your favourite rose colour.
Plaisir's stunning Acrylic rose boxes…creating instant luxurious memories.
Same day orders are accepted if placed before 1:00 pm on the day of delivery.
Copyright © 2020 Plaisir - All Rights Reserved.