Plaisir Home » Online Flower Shop » Luxury Flowers » Page 4
Luxury
Showing 37–48 of 147 results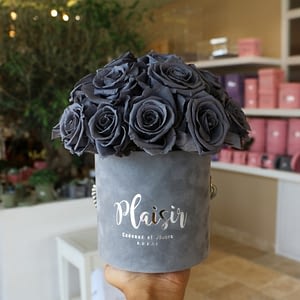 Grey Petite Infinity Grey Roses
AED

1,450.00
Plaisir Infinity Longlife Roses are a perfect example of beauty and longevity wrapped into one! If beauty and durability is what you're after, go no further than our Infinity Longlife products. In this case, the Grey Petite cylinder filled with Grey Infinity Roses is a classic, elegant, chic and enduring gift suitable for both men and women.
The gorgeous box will sit on your recipient's desk/table for more than a year, reminding them of you, everytime they look at it. It's the gift that keeps giving!
Size of empty box is 9×9 cm and includes up to 17 Infinity longlife Roses.
This unique color combination of Grey on Grey is suitable for both men and women for home or office. Infinity flowers are a unique product which last over one full year!  This is a gift that keeps on giving and will remind your recipient how thoughtful you are, every single day.
Longlife/Infinity flowers do not require water or care, just keep away from direct sunlight and enjoy them for a long long time!