Plaisir Home » Online Flower Shop » Ramadan
Ramadan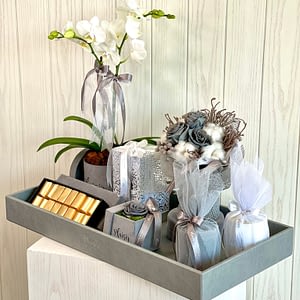 Large Gift Tray – Grey
AED

2,770.00
The exquisite grey Plaisir large gift tray consists of a luxury infinity flower bouquet, fresh mini orchid, two Plaisir candles, Patchi chocolates, single infinity rose, as well as the coveted Musk Kashmir perfume. This impressive tray is sure to wow your receiver with its grandeur! What a wonderful way to wish them well.
Same day deliveries are possible if orders are placed before 1:00 pm on the day of delivery.
Ramadan
The Holy Month of Ramadan is a time for reflection and celebration; it's also a wonderful time to express your love and gratitude to theones closest to you.
The occasion focuses on giving back to the community and cherishing family, friends and loved ones.
This caninclude giving a thoughtful gift to your Iftar or Suhoor host – thanking them for the their hospitality.
Equally, treating your loved ones to asmall gift to show them how much you care.
At Plaisir, we have taken the stress out of finding the perfect Ramadan gift.
We have a range of items from smaller tokens of your thanks, to larger more lavish gifts. From delectable Coco Boxes and Limited-Edition Ramadan Kareem Flower Arrangements to aromatic Candles and fragrant Perfumes, we guarantee to have something to inspire you this Holy Month.